Books
Anahid, the Queen of Shadows
Published by: Mehrab Ghalam, 2015
Shapour, the son of the Sassanid king Ardeshir, falls in love with Anahid, the daughter of Mehrak, a sworn enemy of Ardeshir. Their secret marriage enrages Ardeshir.
On the other hand, Shapour's acquaintance with Malekeh, the daughter of king Hatra complicates his marital life. Anahid seeks comfort in solitude and hides her sorrows.
Due to their fondness for Many the prophet, Anahid and Shapour are subjected to conspiracy of Kertir, the head of Zoroastrian's priests; as a result, their situation gets worse. Finally, Anahid who has sought her comfort in solitude abandons Shapour. Reviewing the past events, Shapour moves Kertir the priest out of his way and …
The Stranger and the Sea
Published by: Kanoon Parvaresh Fekri Koodakan Va Nojavanan (Institute for the Intellectual Development of Children and Young Adults), 2015
DorMohamad, a teenage boy whose mother has passed away and whose father has left him lives on a broken dhow by Pozm Bay (near Chabahar city).
Someday DorMohamad rescues a stranger who is drowning in the sea and in the course of time, they form a close friendship. After a while, DorMohamad finds out that the stranger is looking for a valuable casket fallen into the sea from a sinking dhow.
On the other hand, DorMohamad is in love with a girl named Dorna, whom the stranger helps to protect from a peril.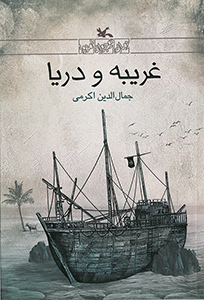 Mr. Smokey- Hat's Wife
Published by: Mehrab Ghalam, 2015
Mr. Smokey-hat runs the fish Chocolate factory while his rival, Mr. Gun-hat, runs the War Toys factory. Both of them are trying to eliminate each other. Finally, during Children's day festival, Mr. Smoky-hat succeeds to neutralize Mr. gun-hat's frame-up by his wife assistance and Mr. Gun-hat is forced to …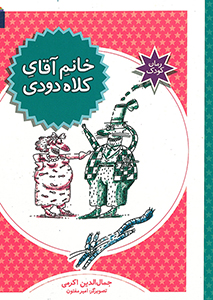 Malik Shamran
Published by Beh Nashr, Illustrated by Amir Nasaji, 2011
Teymour is a poor boy who lives by Pozm Bay (near Chabahr city) with his grandfather and his beloved pet, a donkey named "Ramouk". However, his grandfather gets sick and Teymour is forced to sell Ramouk to cover the costs of his grandfather treatment.
On the other hand, he strongly desires to participate in the race of Carts and Donkeys which is an annual event held by Bureau of Fisheries. Finally, he is obligated to sell Ramouk, but uses it in the race. During the match, Teymour hastens to help someone who has rolled off the cart and consequently, he doesn't win the match. But the gift that Bureau of Fisheries employees bring him the day after race causes him great happiness.
*Winner of "Yousef Malik Sharman" in Institute for the Intellectual Development of Children and Young Adults Festival, 2013.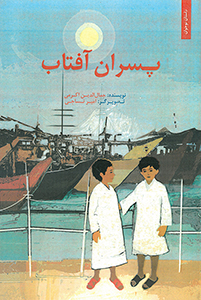 The Patchwork
Published by Peydayesh, 2006
Reyhaneh has to immigrate to Tehran with her family and leave her most beloved grandmother behind due to bankruptcy of her father. Her grandmother gives her a patchwork which reminds Reyhaneh of the good old days with her grandmother.
Reyhaneh makes friends with a lonely girl at school. The rest of the novel is about her friendship with this classmate and the adventures of her father with creditors. In the end, Reyhaneh can reunite with her grandmother and …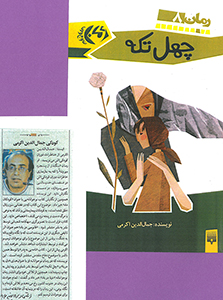 The Sole and the Sea
Published by Shabaviz, Illustrated by Farshid Shafi'ei, 2006
DorMohamad is a half-breed Tinggi teenager. He lives in Tis town near Chabahar. To get to school, he needs Abedi's bicycle who is a Baloch boy. Due to a struggle with Abedi, he is forced to quit school.
DorMohamad works in Chabahar port in the evenings. Someday he sees a packed bike falling from a charter boat into the sea. He and his friend, Fallah swim in search of the sunk bike and find it. Now he has issues with his mother, Dor Bibi …
* Teen selected book of Library of Munich, Germany, 2007
Children of the Moon
Published by Beh Nashr, 2009
Adel is a child suffering from Tetanus and thus, he is kept in a dark covered (isolated) room of a hospital. His uncle gives him a little train as a gift. He and his patient friends get on this train and get close to the moon. A child reaching the moon cannot come back to the earth …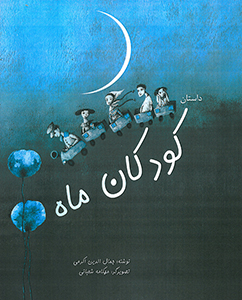 Return of Professor Zalzalak
Published by Kanoon Parvaresh Fekri Koudakan Va Nojavanan (Institute for the Intellectual Development of Children and Young Adults), 2010
Mana is a teenage girl who watches out her grandfather, Prof. Zalzalak inventing a new machine. He has a dispute with Prof. Makan, a cheater.
Prof. Zalzalak goes to a cave named "KalmaKareh" in Ilam and he doesn't know that Mana and her parrot, Captain are secretly following him.
The story begins when Prof. Zalzalak and his companies get stuck in the cave.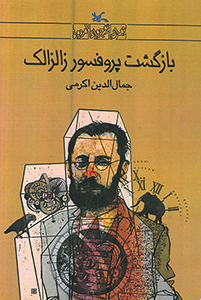 A Lantern in the Wind
While Shirzad, Hamoon and Borzoo are swimming in a river on the hillside of Mt. GodarKhosh (in western Guillan), they notice enemy soldiers in a refuge among the forests (woods). They are going to inform Iranian soldiers of the presence of the enemy and it should be done in a manner that attracts no attention. Finally, the soldiers accomplish their mission in spite of the dangers three boys face and enemy soldiers retreat.